Product Description:
The Ed Classic is your all-in-one wallet.
The minimalist design with a classic coin pouch and storage for your cards, bills, and coins.
*Due to the natural aging process, a patina will develop over time, giving a unique feel and outlook.*

✓ ED CLASSIC – Securely holds 3 - 5+ cards, 10+ folded bills, and coins
✓ MINIMALIST – Smaller than most traditional bifold wallets (10.2cm x 8.2cm x 0.4cm)
✓ DURABLE – Made with premium full-grain leather that is built to last!
✓ PROTECTION – Integrating RFID blocking fabric to prevent RFID scanning thieves and electronic pickpockets from accessing your personal data
✓ UNIQUE DESIGN – Unlike other wallets, our quick access card slot design allows you to easily access your most frequently used card with a quick slide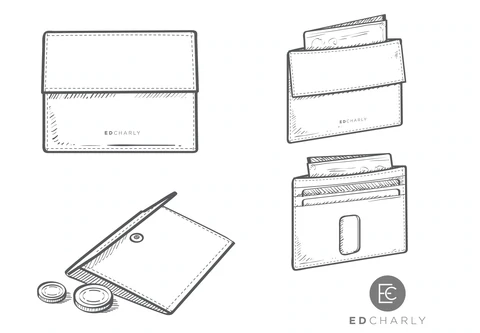 Why I Love It:
I really like the Ed Classic. It's a wallet that packs form and function. Despite having a svelte form factor, the Ed Classic manages to be practical, offering impressive storage compartments for its size. At just $59, it's a great value proposition.
Written Review: https://www.wahsoshiok.com/ed-charly-wallets-review-promo-code-included/